About Us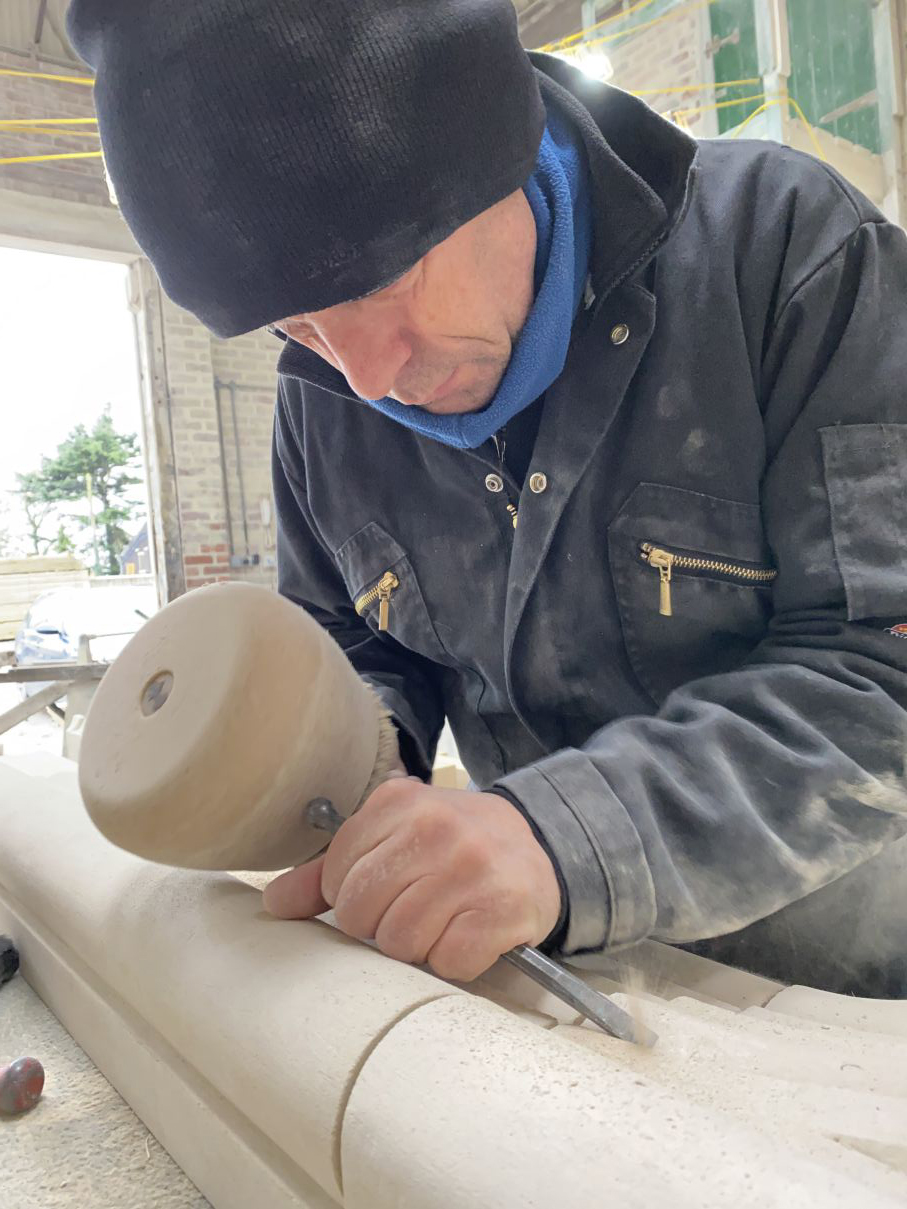 Company Director Robin Winterton began his career as a stonemason with a four-year apprenticeship at York Minster.
Robin has also been involved with restoration projects at Salisbury Cathedral, Beverley Minster and numerous prestigious buildings throughout the UK, including major restorations of Bolton Castle in Wensleydale, under the supervision of English Heritage.
Robin began making stone fire surrounds in 1992, and opened a showroom in Helmsley called The Hearth in 1996. The Stone Fireplace Company was formed in 2002, just a short distance from York Minster, but has now moved to our workshop at Sutton-on-the-Forest. Our company specialises in bespoke hand-carved limestone and sandstone fire surrounds, stone flooring and architectural stonemasonry.
We specialise in the design and manufacture of an extensive collection of hand-crafted fire surrounds, using a choice of 10 different sandstones and limestones. Three of our limestones have been used in the restoration of York Minster.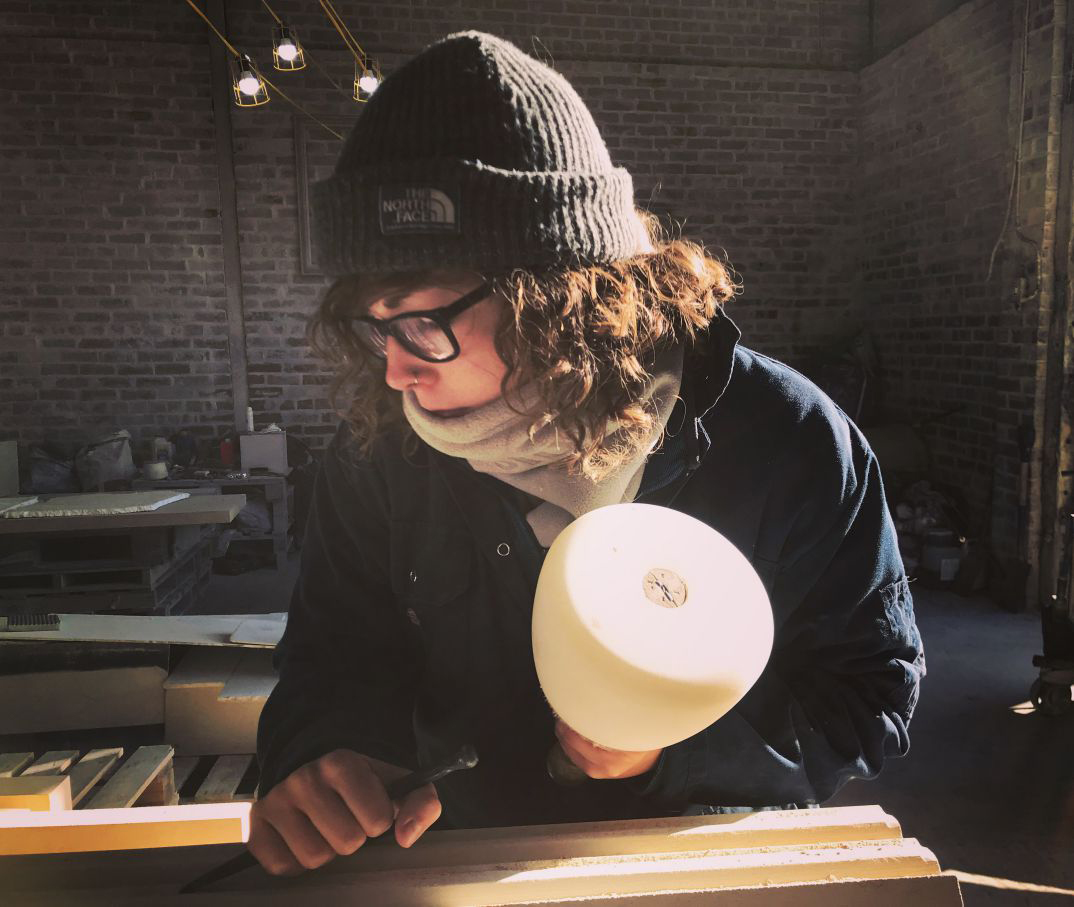 Rosie is Robin's youngest child and after an extensive career in retail management decided to have a change of direction and come to train and work alongside her father. She completed her apprenticeship at York College whilst working at The Stone Fireplace Company and plans to continue the family business in the future. She has a knack for stone carving as well as masonry and carves handmade plaques and even some sculptures.
We can guarantee that all of our work is created on a one-off basis for each customer, using specially selected, highest quality English stones. And, if you don't see the fireplace that suits you, then we can produce any design you require, either using your own ideas or by using our personal design service. We will include a site visit (nationwide), so our ideas complement the style and decor of your room.
Our knowledgeable staff will always try to help out at all stages of the process and answer any questions you may have. We are the suppliers of Gallery Collection and Carron Fireworks – grates, casts, fire baskets and stoves. All fireplaces are suitable for solid fuel, gas and electric; the choice really is yours, we aim to please!
All our work is carved by hand from start to finish using centuries-old techniques and little-changed hand-held tools to perfect the intricate detail in each design.
Robin makes individual site visits to discuss and suggest ideas for the ideal style to suit his client's home and personal choices. Included in this service, Robin provides his own drawings to-scale, together with a selection of stone samples sourced from English quarries.
Whether a small cosy cottage or a large country mansion, any home will be enhanced by a handmade stone fire surround and other architectural features such as windowsills, shelves and garden features.
With his vast knowledge and range of experience, Robin will liaise with his clients and advise on all the options available to bring an idea to life. From the traditional fireplace featuring an open fire to a contemporary wood-burning stove set into an ingle nook, with a variety of options to complete the look, such as firebacks lined out in matching stone, handmade brick with perhaps a Herringbone finish or reeded steel. We always take your ideas and preferences as paramount when designing, to give your home something truly unique that you can treasure and be proud of for years to come.
Everything we make is hand carved from stone. This means anything is possible; we can create any fire surround using your own original ideas, with any design and at any scale, plus flooring, carving, sculpturing, lettering, gravestones and restoration work.
We have always offered a nationwide service and our work has taken us as far north as Aberdeen, as far south as Southampton and numerous places in between. We can also source local stone to capture the atmosphere of the environment. Since featuring on BBC2's Restoration Home both in 2012 and again in 2014 (see the video and button on the homepage), our national client base has now extended to Cornwall and prestigious homes in highly sought-after locations in London and the surrounding areas.
Visit Us
Come along and visit us in our showroom and workshop to have a look at the beautiful fireplaces we have to offer.
The Stone Workshop
Sutton Grange
York Road
Sutton-on-the-Forest
YO61 1EN

01347 811886

Email us
Facebook
Latest work
In progress
Ebay
Monday to Friday: 09:00 - 16:30
Saturday: 10:00 - 14:00
Sunday and all other times by appointment only
Testimonials
"
Just a short note to let you know that we are both delighted with the fireplace. It suits the cottage very well.
"
"
Have just seen the fireplace today. As they say in Cornwall "A proper job".
"
View all testimonials